Isa Viswa Vidyalayam
The Isa Viswa Vidyalayam is an award-winning school that brings out the inherent qualities of a child by integrating subjective and objective knowledge. 
Located in Trivandrum, Kerala, the Isa Viswa Vidyalayam is an English medium school enrolling pre-kindergarten to Sr. Secondary students, fully accredited by the Govt. of India. As of 2022, it also enrols students for certificate and diploma courses as a Franchisee Centre of C-Apt Multimedia Academy under the Govt of Kerala's Higher Education Ministry.
The school was established in 1998 by His Holiness Swami Isa, as a pilot school for his Education for Total Consciousness (ETC) teaching methodology.
Here, learning is never a burden. Whether learning mathematics, science, literature, or dance, our students experience the immense joy that comes from deeply relating to what they are learning.
In addition to learning the national curriculum, all students at the Isa Viswa Vidyalayam study English, Malayalam, Hindi, and Sanskrit. Each month they perform their lessons as creative projects. Plus, they have many extracurricular activities to grow and develop. These activities include school clubs, environmental care, and social work.   
All children are welcome to Isa Viswa Vidyalayam, regardless of economic, religious or any other type of background. 
 Announcements
We're now offering Career Courses under C-Apt Multimedia Academy
The Isa Viswa Vidyalayam is now a C-Apt Multimedia Academy Franchisee Centre, offering dozens of State Government approved Career and Certificate courses.

Enrollment has begun for new batches. Course duration ranges from 1 month to 1 year.

The courses offered are:

* DCA - Diploma in Computer Application - fast track (6 mos)

* PGDCA - Post Graduate Diploma in Computer Application - fast track (1 Year)

* ADHMN - Advanced Diploma in Computer Hardware Maintenance & Networking (1 Year)

* ADGAV - Advanced Diploma in Graphics, Animation and Visual FX (1 Year)

* DPPFTP - Diploma in Pre-Primary Faculty Training Programme (1 Year)

* DFFA - Diploma in Financial & Foreign Accounting (6 mos)

* DCFTP - Diploma in Computer Faculty Training Program (6 mos)

* DCHM - Diploma in Computer Hardware Maintenance (6 mos) 

* DEOA - Data Entry Operator and Office Automation (6 mos)

* DGAV - Diploma in Graphics, Animation and Visual FX (6 mos)

* PGD - Professional in Graphic Designing (6 mos)

* CSAP - Certificate in SAP
* CLA - Certificate in Linux Administration

* EDP - Expert in Desktop Publishing (2 mos)

* EGD - Expert in Graphic Designing (2 mos)

* FCP - Final Cut Pro (1 month)
* Adobe Photoshop (1 month)

* Adobe Corel Draw (1 month)

* Adobe Flash (1 month)

* MS - MS Office (3 mos)

* T - Tally (2 mos)

*WDE - Web Design Expert (3 mos)

* C++ Programming Language (3 mos)

* Java Progamming (3 mos)

* Python (1 month)

* Oracle (2 mos)

* PHP+Mysql (2 mos)

* SQL Server (2 mos)

* Office Automation (3 mos)

The C-Apt Multimedia Academy runs under the Govt of Kerala's Higher Education Ministry.

Contact  8075485663 or email isa(dot)vidyalayam(at)gmail(dot)com to apply.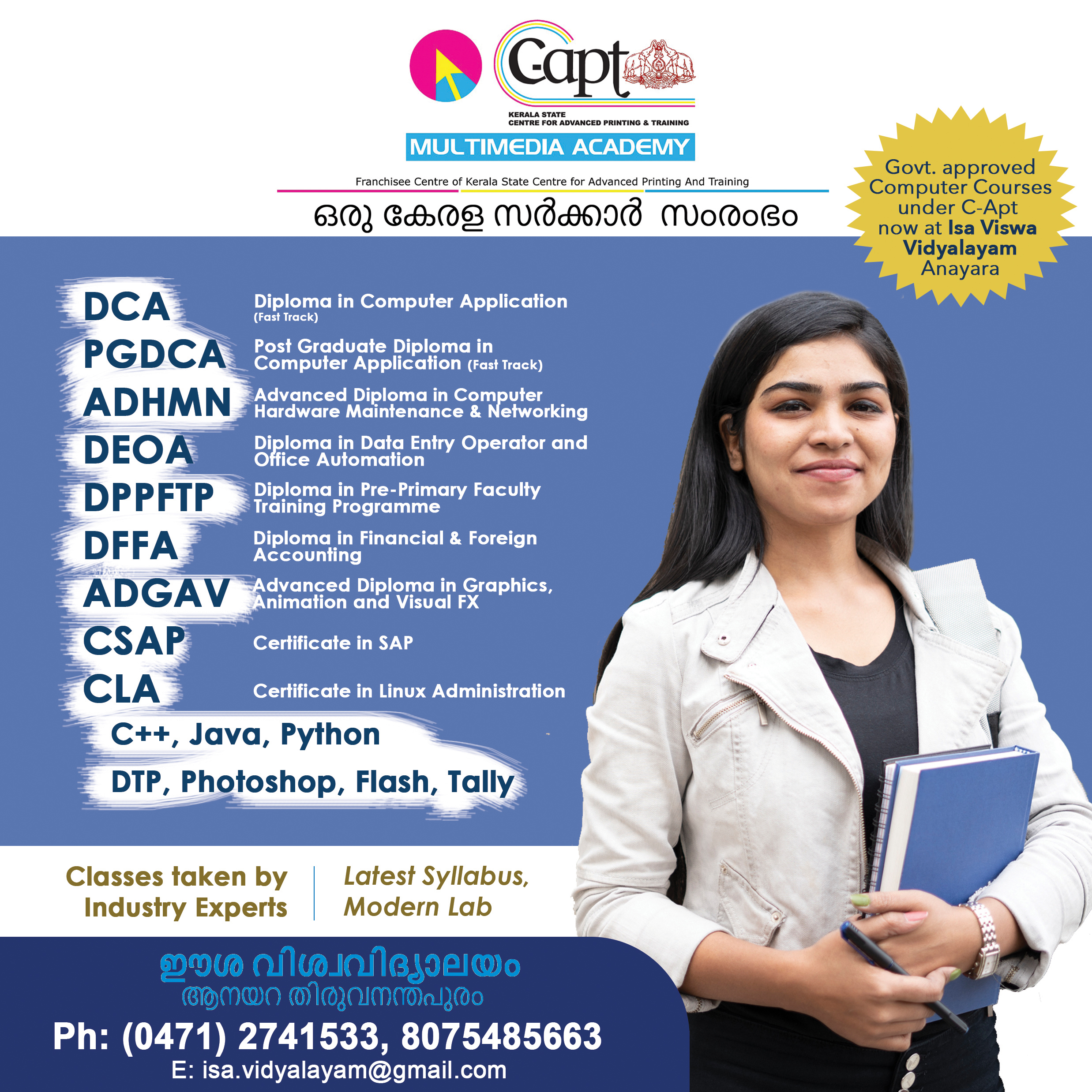 Certificate & Vocational Courses under Govt of India

The Govt. of India accredited the Isa Viswa Vidyalayam to enrol classes up to Sr. Secondary, and Vocational students. The courses offered are:
* Yoga Teacher Training Certificate (1 yr)
* Sr. Secondary Vocational Stream - Yoga & Ayurveda (2 yrs)
* Sr. Secondary Vocational Stream - IT & ITES (2 yrs)
* Early Childhood Care and Education Certificate (1 yr)
* Modern Secretarial Practice Diploma (1 yr)
Contact us for more information or to apply.
Mission
Through our unique methodology of Education for Total Consciousness:
- Every lesson will impart knowledge about the objective reality (the outer world) with knowledge about the subjective reality (one's own body and inner self).
- Every student will attain complete knowledge, and will understand that he or she is a miniature of the universe.
Values
     - Education is the fundamental tool for empowering human beings to realize their essential nature, the light and bliss of Total Consciousness.  Formal education in the school will impart a scientific methodology for assisting in this realization process.  
     - This is a school for making real human beings.  We are a part of our environment, family, society, nation and world, and we love them as we love ourselves.
     - Our Gurumas are embodiments of the Mother's love, Father's care and Guru's knowledge.
     - Our students are perfection waiting to be uncovered, shining Consciousness yet to be realized.
     - This is a school for concentration, compassion and consciousness
The Practice of Interconnection ... 
Education for Total Consciousness an innovative educational philosophy and methodology developed by His Holiness Jagadguru Swami Isa, designed to help students understand the connection between themselves and everything around them, using any kind of syllabus.
Not only is Education for Total Consciousness practiced in our school, it is now widely promoted by educationalists throughout India and abroad. Numerous features of ETC appear in India's new National Education Policy 2020, especially related to the holistic development of learners.
ETC demonstrates to learners that the individual is a microcosm of the universe, and that their thoughts and actions have a significant effect on the world, as the world has an effect on them.
In ETC, the students link the topic to themselves. This is called integrated objective and subjective learning. The 'object' is anything in the outer world; the 'subject' is anything in their inner world such as their body, emotions, intellect, ego, and consciousness.
One example of objective knowledge about water would be that the Earth is composed of approximately 72% water. Subjective knowledge relating to this would be that the body's liquid is also 72%. 
For education to be total, the objective and subjective planes of knowledge must be integrated.  
The core of ETC is to impart true and total knowledge to solve the conflicts in the individual and the world.
We are proud of the children who have studied in the ETC format, and are growing into loving, responsible, broad-minded, confident, and mindful members of society.
In recognition of its successful implementation of ETC for more than 20 years, Isa Viswa Vidyalayam is the recipient of the Indywood Excellence in Education Award 2021 in the category of "Excellence in Innovative Educational Philosophy."
Creative Expression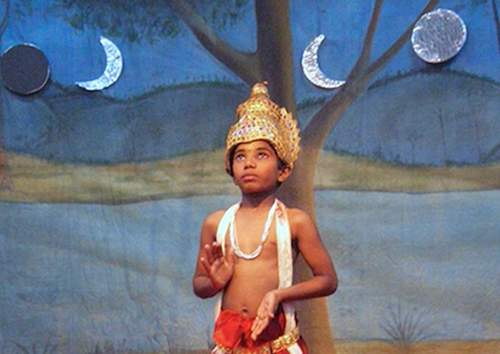 Creative Project of a Science lesson on Lunar Phases
For lessons to be well 'digested' by a student, it must find its way into their mind and body. Nothing learnt merely in theory is completely learnt; it must become an emotional or a practical experience.
At Isa Viswa Vidyalayam, textbook lessons in each discipline are made into creative presentations which the students perform in front of the whole school each month. Mathematics lessons become dances, science becomes music, geography becomes poetry ... all in the talented and creative hands of the children and gurumas. Once they learn the lesson in this way, it becomes a part of them, and they never forget it!
Photos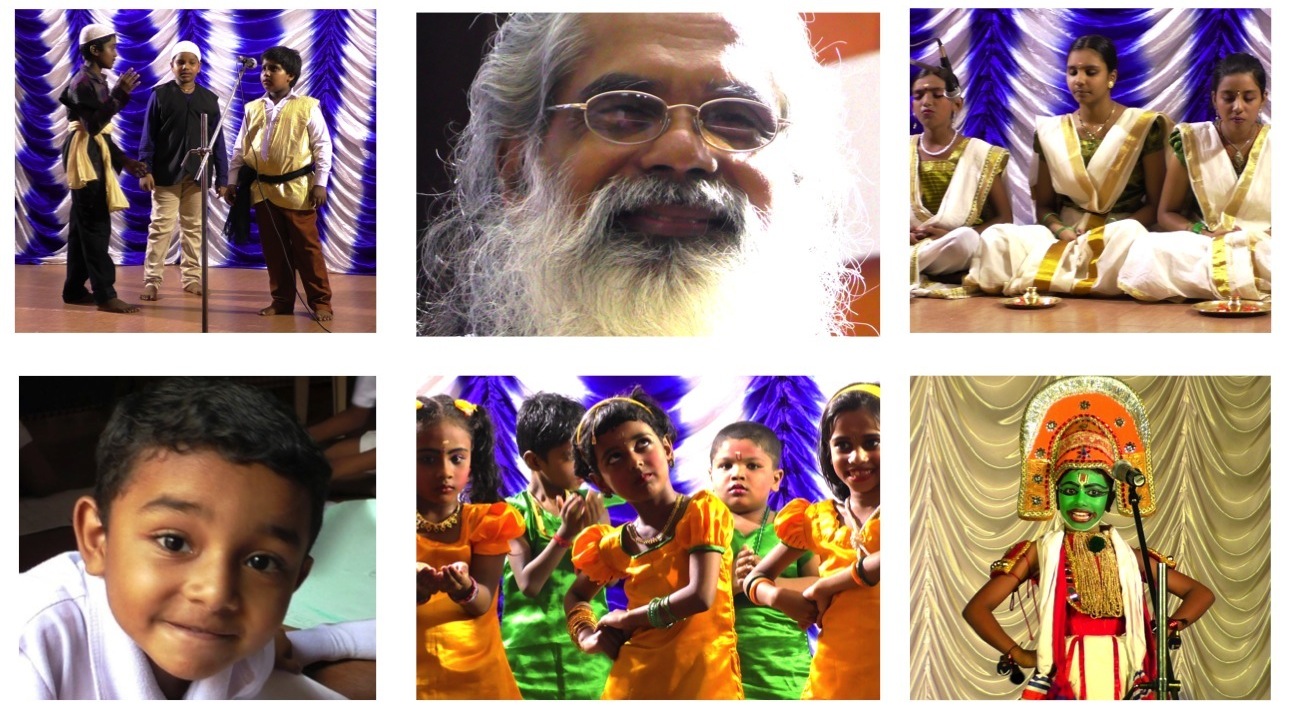 Videos
Contact Us
Principal: Mrs. Geetha Kumari 
Vice Principal: Dr. Sujakshi Haridas
Manager: Sobha K.R.
Phone: +91 0471 2741533
Email: isa.vidyalayam(at)gmail.com
Follow us on Facebook: https://www.facebook.com/IsaViswaVidyalayam/ 
Thought of the Week
"Peace is not created by putting an end to change, but by keeping both positive and negative changes in a balanced state."
Read more quotes