---
Donations to palliative patients in flood-affected Chennai ( 2016-03-25 )
---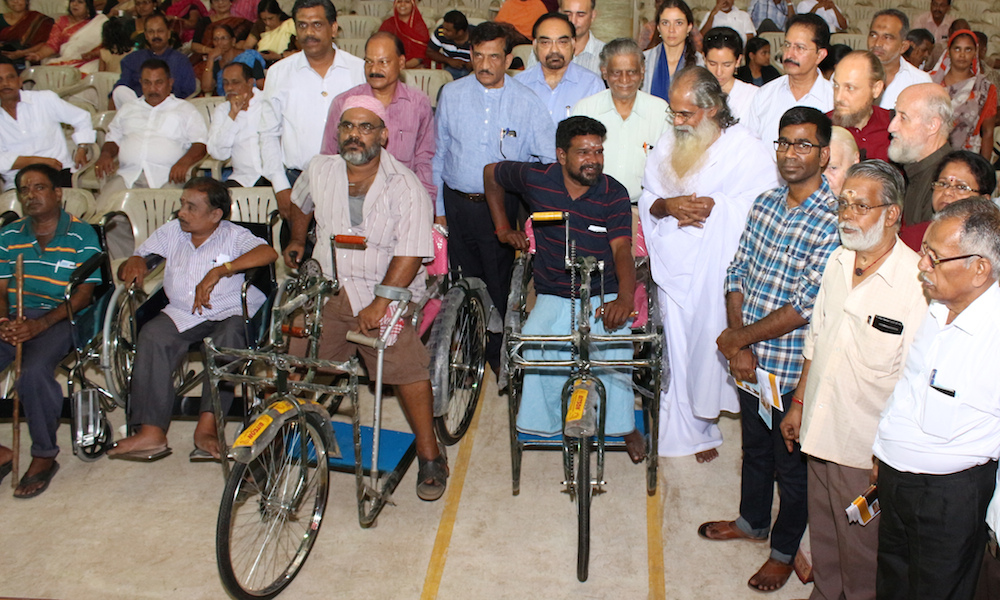 As part of its commitment to the relief of vicitms of natural disasters, the Isa Viswa Prajnana Trust donated wheelchairs, tricycle handmovers, walkers, beds, and other medical supplies to economically disadvantaged palliative and pain patients in Chennai flood-affected areas. These items will improve the quality of life for the terminally ill and pain patients, increase their mobility and reduce their suffering.
Patients received the donations at a public meeting organised with the Chennai Pain and Palliative Care on April 3 at the Asan Memorial School, at which Trust founder Swami Isa was also present, and interacted with the patients. Two physically challenged children were among the recipients. For bed-ridden patients who could not come to the venue, items were supplied at their residence.
His Holiness Swami Isa, Founder of the Isa Viswa Prajnana Trust, gave the Invocation Address.  "We should work for the betterment of families, also, and not just patients," said Swami Isa. "Organizations providing palliative care and other social organizations provide a good deed," he said.  "But when palliative organizations work in this area, they should also remember the family members of the patients.  After a patient dies, we should remember the family's grief and console them also...Organizations like this are doing a good deed," he said.
"The kind of education which moulds children's characters should be given more importance. Parents dream about making their children into doctors or engineers, but never think about making them into better individuals," he said. "Even schools are not trying for the betterment of children's characters, nor for their inner growth," he said.  
Shri. T.R. Kesavan, Chief Operating Officer, TAFE Ltd, Shri. M. Nanda Govind, President of the Malayalee Club, Shri. V. Nandakumar IRS, Joint Commissioner of the Income Tax Dept, and Dr. Kanakasabai, Former Dean, Rajiv Gandhi Govt General Hospital were Guests of Honour at the meeting. The Secretary of Chennai Pain and Palliative Care, Shri. NK Prasad, gave the Welcome Address, and Shri. P.T. Ali, Advisor of CPPC also spoke.
Dr. M.R. Thampan, Secretary of the Global Energy Parliament, distributed the donations by the Trust.
The Trust thanks the donors who came forward to help our efforts to relieve suffering and provide service to humanity.
Thought of the Week
"Peace is not created by putting an end to change, but by keeping both positive and negative changes in a balanced state."
Read more quotes