---
A New Orientation Given to Science at GEP 2017 ( 2017-12-11 )
---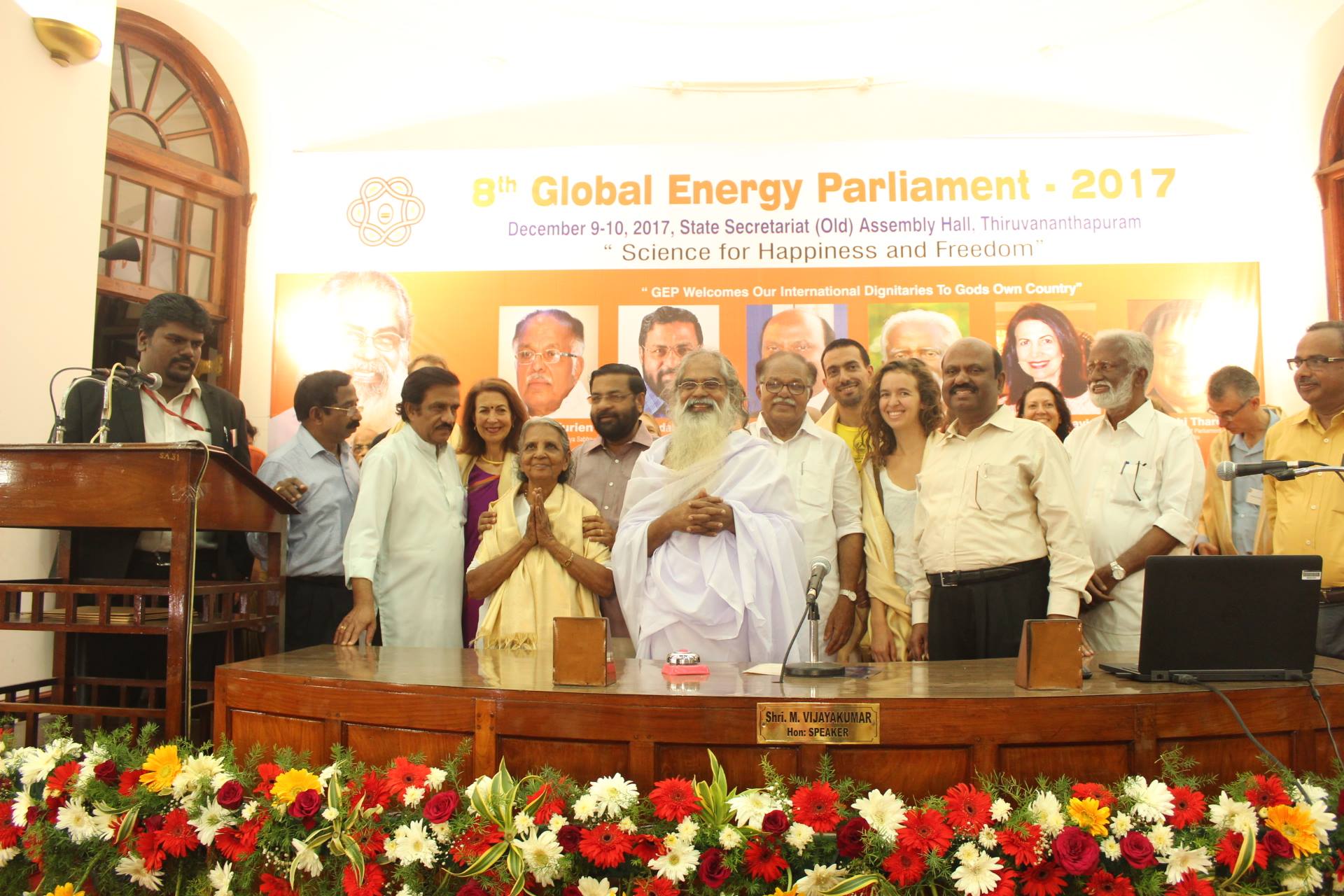 The 8th session of IVPT's Global Energy Parliament was conducted on December 9-10, 2017 at the Kerala State's first Assembly Hall in Thiruvananthapuram. More than 350 people from 16 countries participated in the GEP 2017.
The event was graced with the presence of many distinguished individuals including the Deputy Chairman of the Rajya Sabha (India's Upper House), Prof. P.J. Kurien, who chaired the first session and inaugurated the parliament. The Minister for Tourism, Shri Kadakampally Surendran, inaugurated the Students' Parliament. The Leader of the Opposition of Kerala State, Shri Ramesh Chennithala, gave the Valedictory Address. Dr C.V. Ananda Bose was the Speaker of the Global Energy Parliament.
The session was an exciting array of Questions, Submissions, Minister Responses and Resolutions. The second day was devoted exclusively to the GEP Students' Parliament chaired by Prof. V. Unnikrishnan Nayar and Shri A.P. Prejish. 
His Holiness Jagadguru Swami Isa, Founder of the GEP, began the discussions with an Address on the 2017 theme, "Science for Freedom and Happiness." His Holiness emphasized that goal of science has always been the pursuit of happiness and the removal of causes of discontent. But in modern times, it has forgotten this aim, and pursued only the attainment of knowledge at all costs.
"Science is indeed powerful," He said. "It can remove inner and outer obstacles and grant us peace. But in the hands of the ignorant, it can have deadly results, a battlefield of sorrow. Science should be correlated to all branches of study, for it is knowledge alone that makes man a genuine human being."
"Society should be empowered with a clear awareness of positive and negative. Providing this awareness and the tools to maintain the balance between positive and negative, is the noble aim of science," he said.
Ministers and Members of Parliament each gave proposals and resolutions on the theme using the I-Theory's approach to balancing energy.
Read more about GEP 2017 on the GEP website at: https://www.global-energy-parliament.net/gep2017
Thought of the Week
"Peace is not created by putting an end to change, but by keeping both positive and negative changes in a balanced state."
Read more quotes