LTC Courses
FREE YOGA DAY - April 15
Learn the fundamentals of yoga and stress management with His Holiness Jagadguru Swami Isa.
This Free Yoga Class is open to all.
8 a.m. to 1 p.m.
Isa Viswa Vidyalayam, Anayara
Please email or call to register in advance.  isa.viswa@yahoo.co.in, 9497859337
Open Yoga Class
Experience the joy of basic asanas, physical movements and pranayama to achieve healing, relaxation and stress relief. Open for all throughout the year at Isalayam Ashram. 
Monday, Wednesday, & Friday at 7-8:30 a.m. 
LTC Beginner's 10-Week Course
Learn the basics of Swami Isa's method of yoga and meditation, "Life for Total Consciousness." This class includes some basic asanas, chanting, visualizations, prayer, pranayama and meditation. No prior experience is necessary. People from all walks of life find enjoyment and fulfilment in this teaching. Intermediate and advanced courses in LTC are offered after completing this course.
Next course starts August 15, 2018.  Class is held on Saturdays & Sundays at 7 am at Isalayam Ashram.
To register or for more information, email isa.viswa@yahoo.co.in or call 9497859337
10-Day LTC Intensive (Residential Course)
A 10-day Intensive Course in "Life for Total Consciousness" yoga & meditation is offered a few times every year.  This is an important course to become familiar with the theory, science and practice of yoga.  It will help establish your daily routine and give you the techniques for balancing your system.  
Courses are taught directly by Swamiji and include training in chanting the Yoga Sutras and other yogic scriptures.
Please contact us to apply for the next 10-Day Intensive.
Note: 10-Day intensives are also arranged on other dates, as announced.  If you have a group of 8 or more people and would like a 10-Day intensive, we can also arrange this upon request.
LTC Teacher Training (Residential & Non-Residential Courses)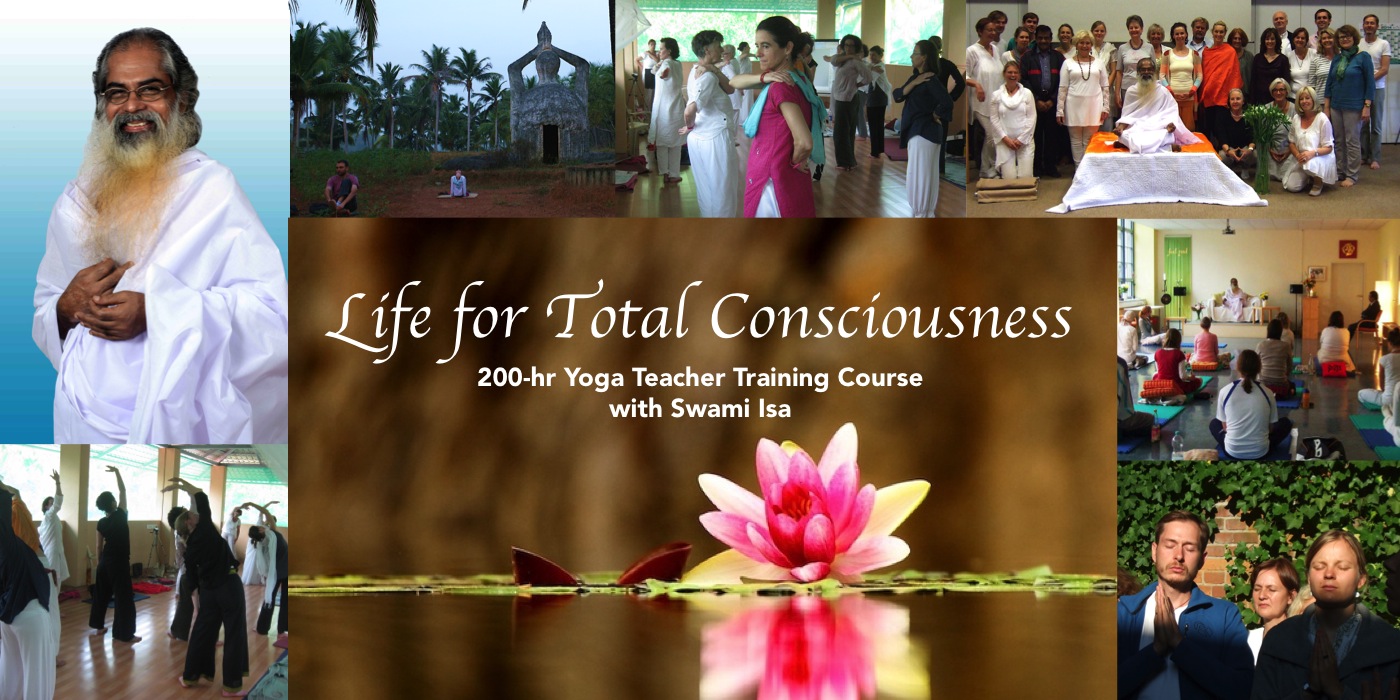 For yoga practitioners looking for a serious commitment to teaching LTC, the 200-hr Teacher Training Course is a wonderful opportunity.
All the information is online here: LTC Yoga Teacher Training 

LTC Office Yoga
LTC Yoga instructors are available to teach at companies. Today, many employers are discovering that yoga and meditation are effective tools for enhancing employee productivity, positive attitude, stress relief and job satisfaction. 
Objective measurements of employees' stress levels, blood pressure, physical relaxation, etc. can be taken during our courses in order to demonstrate the efficacy of the technique.
Our LTC Yoga program offers various packages for different abilities and lifestyles. Please contact us for a brochure or for more information at 9497859337 or isa.viswa(at)yahoo.co.in
1, 3 and 5 Day Packages (Residential Course)
For genuine seekers looking for a real experience of yoga, we offer 1-, 3- and 5-day packages at Isalayam.  These can be requested at any time, if you contact us at least 3 days in advance of your intended stay.
1-Day Package:  Come for the day and learn what yoga and the ashram experience are like.  Learn the first step of LTC and follow us on our daily routines.  You may have the possibility for a one-on-one sessions to answer your questions. 
8 a.m. to 8 p.m., and vegetarian food is provided.  You are welcome to stay overnight at the ashram if requested in advance.
3-Day Package:  If you have only a few days in Kerala and want to learn some yoga and experience ashram life, the 3-Day package is the best for you.   You will learn the basics of the ashram routine and the first steps of LTC which you can make into a powerful daily practice for yourself for a sense of peace and harmony.  Sleeping arrangements and food are provided by the ashram. 
5-Day Package:  Five days is the minimum time to adjust your body rhythms and patterns to the ashram lifestyle, including sleep, food, meditation and service.  In five days at Isalayam you will feel a sense of renewal and change and learn the first few steps of LTC for a wonderful personal practice.  Sleeping arrangements and food are provided by the ashram. 
Children's Classes
LTC for children is taught Monday through Friday from 2:20-3 pm at Isa Viswa Vidyalayam, Anayara, Thiruvanathapuram.
Other Courses
From time to time Isalayam offers special courses in LTC for special populations (Diabetes, Disability, Elderly, Children, Family, etc.) and in other locations during Swamiji's tours abroad.  Please check the Events page for announcements about special classes. 
Thought of the Week
"Everything in this world is nothing but Energy. From the heartbeat of man to the rotation of the Earth on its axis, everything is only the pulsation of that Divine Vibration."
Read more quotes